Regular price
Sale price
$80.00 USD
Unit price
per
Sale
Sold out
1 L • 33.8 fl oz

MSRP - $75 USD PER FULL BODY SPRAY TAN*

Everything we love about our Super Express Solution, without the bronzers + dyes.

no "fake tan" look pre shower
feels like nothing on the skin
even less transfer to sheets/clothing
the least overall ingredients

This solution will go on completely CLEAR. Results will gradually develop over the 12-24 hours following the application. The final color will depend on the client's natural skin tone, unlike the solutions that contain bronzer where we are also able to adjust the color based on their personal preference.



We especially love it for...
breastfeeding moms

clients with food dye allergies
"lunch break" applications
brides + anyone concerned about color transfer
*1 L = APPROX 18-20 FULL BODY SPRAY TANS

Unlike regular solutions, where the darkness level is dictated by the DHA percentage, the blushtan® Super Express results are determined by how long your clients wait until they shower. Rinse off just 2 hours after application for a light glow, 3 hours after for a medium tan, or 4 hours after for a deeper tan.

PLEASE NOTE: Although the tan sets more quickly on the skin, results still take 24 hours to develop so the client should not judge their results until the day following their application.

Shower after 2 hours – Compare to 8% DHA
Shower after 3 hours – Compare to 10% DHA
Shower after 4 hours – Compare 12% DHA
Shower after 5 hours – Compare to 14% DHA

Our exclusive line of organic blushtan® solutions contain natural, anti-aging ingredients that help to moisturize the skin + minimize the appearance of cellulite, fine lines + wrinkles. Will also reduce inflammation + redness caused by acne, sunburn, eczema + psoriasis. Specially designed to alleviate dry skin, allowing the sunless tan to set + fade evenly. Delivers a beautiful brown color designed to look flawless on all skin tones.
View full details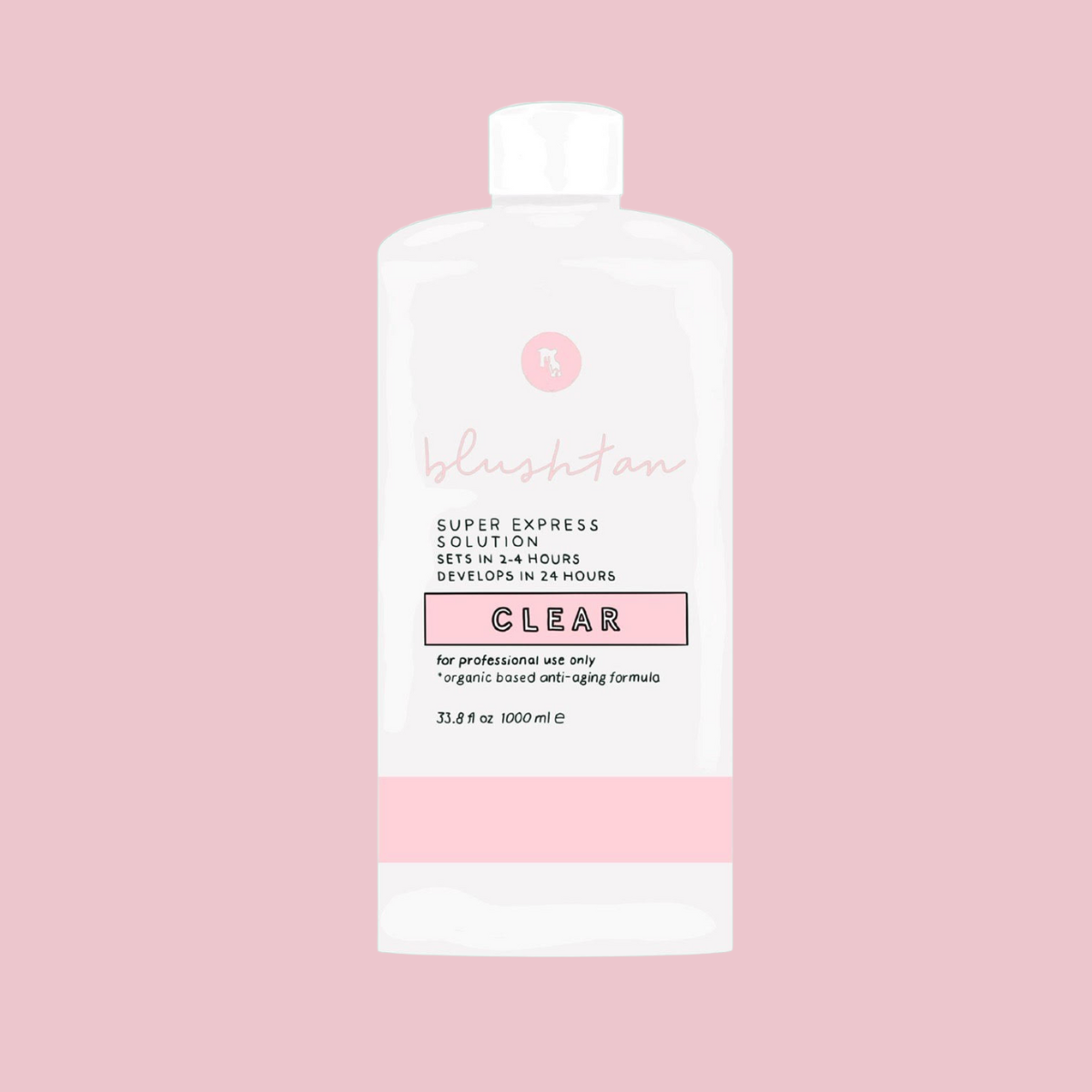 You may also like
Regular price

Sale price

$25.00 USD

Unit price

per

Regular price

From $56.00 USD

Regular price

Sale price

From $56.00 USD

Unit price

per